The City Palace Museum, Udaipur is embellished with an elegant lifestyle of ancient Mewar documenting the lives of the Maharanas. With a different range of exhibits, these galleries restore and preserve the irreplaceable age old traditions and rituals of Mewar, through time
Immersing into the saga of Mewar, let's take a virtual tour through the ornate galleries of City Palace, Udaipur.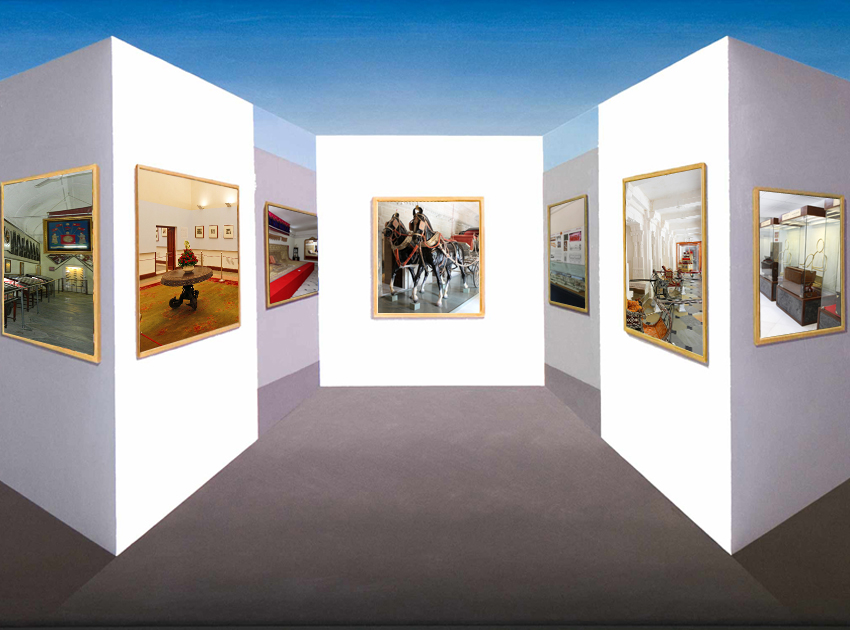 Gallery- Amar Mahal- Magnificance of Silver- Reflecting the best of Silver smithy
Being the only silver gallery of Asia, the complete exhibit is dedicated to finest silver workmanship, throughout history. From basic silver ornaments to the

detailed

silvery mandaps, the gallery houses

innumerable

old family heirlooms of the royal family of Mewar, providing an insight into the silverwares of ancient Mewar.
Equipped with state-of-the-art light fittings and adhering to international conservation standards; The Bhagwat Prakash gallery is devoted to the show and exhibition of photographic materials. The 126 exhibits on display provide a photographic view of the reign of five successive Maharanas of Mewar, from Maharana Swaroop Singh (r. 1842 – 1861) to Maharana Bhupal Singh (r. 1930 – 1955); modify the visual depiction of a ruler from a distant leader to a more approachable figure.
Fateh Niwas Gallery – Mewar Miniature Painting Exhibition.
The city of Udaipur is Called for its proficiency in miniature paintings with the history dating back to 1800 years. With the earliest painting, courting back to 1715 A.D., this gallery exhibits approximately 200 paintings classified under the categories such as nobles, court life and festivals, fairytale-like processions, animal fights, hunting scenes, places of pilgrimage in Mewar and much More.
Fateh Niwas Gallery
- Palace Calendar Exhibition.
Palace of Mewar, since 1987, has been following the rituals of publishing its yearly theme calendar, all of which collectively are displayed in the gallery.
Fateh Niwas Gallery- Coat of Arms Exhibition.
The Fateh Niwas Gallery
exhibited a huge collection of the Coats Of Arms from various princely states of India along with the Coats Of Arms from the 22 former princely states of Rajasthan and Coat of Arms of 14 princely states which spread throughout the country after originating from Mewar.
Gokul Niwas Gallery
: The Curtain Raiser – The Mewar Regalia Textile and Costume Exhibition.
Gokul Niwas Gallery Showcase the rich and diverse collection of textile from Mewar. The gallery displays the living heritage of 200 years, carried
generation to generation in the dress code and lifestyle of Maharanas.
Share this